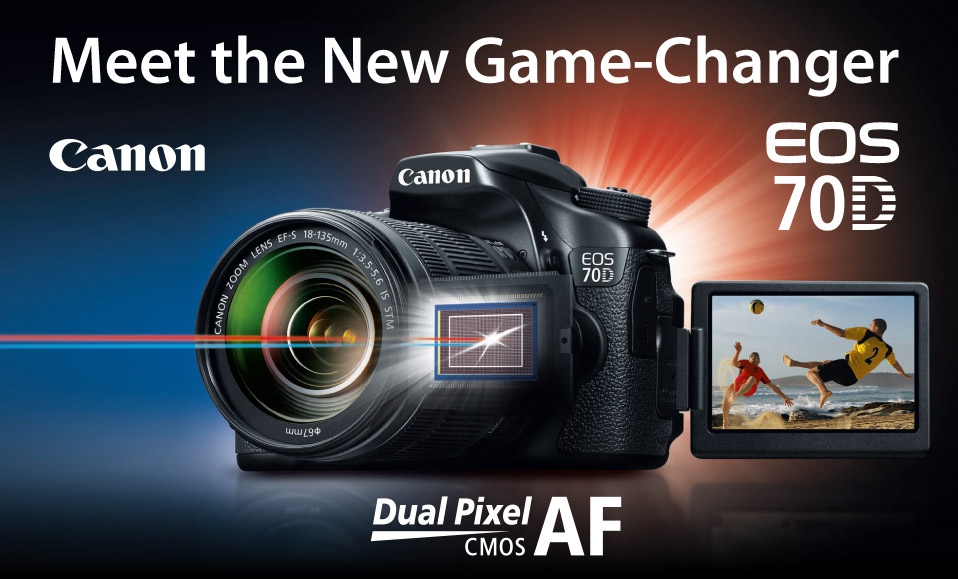 Changing forever the way users capture still images and video with a DSLR camera, Canon proudly introduces the EOS 70D - a trailblazing powerhouse featuring a revolutionary autofocus technology that unlocks the potential of Live View. The innovative Dual Pixel CMOS AF allows the EOS 70D to shoot video in Live View with smooth autofocus like a camcorder; enables users to realize the compositional freedom afforded by accurate and quick autofocus on the camera's Vari-angle touch screen monitor; and is compatible with 103* Canon EF lenses for nearly limitless creative flexibility. Built-in wireless technology further enhances shooting and sharing capabilities. Superb image quality is provided by a newly designed 20.2 Megapixel CMOS (APS-C) sensor, which enables an ISO range of 100-12800 (H: 25600), and the powerful DIGIC 5+ Image Processor helps achieve up to 7.0 fps continuous shooting. Elevating the possibilities of creative expression to extraordinary new heights, the EOS 70D with Dual Pixel CMOS AF is truly an unprecedented performer.
*As of July 2, 2013
Dual Pixel CMOS AF on the EOS 70D is a revolutionary Canon technology that raises Live View Shooting to a convenient and comfortable complement to traditional viewfinder shooting. It will change forever what is possible with a DSLR Camera.
Shoot Video Like a Camcorder
Dual Pixel CMOS AF delivers autofocus performance that is similar to that of a camcorder - but on a DSLR camera! Focus is precise, transitions are smooth and natural, and subjects in motion are tracked consistently over a large area of the frame. The EOS 70D locks in outstanding focus quickly and doesn't let go, helping you achieve pleasing, cinematic results.
Realize the Freedom of Live View
Live View shooting, powered by Dual Pixel CMOS AF, is phenomenally accurate and faster than ever. With such advanced autofocus capabilities available when using the Vari-angle monitor, Live View is now a capable complement to traditional viewfinder shooting. Comfortably and confidently shoot more subjects, from more angles and vantage points, as the situation dictates.
Compatible with 103* Canon EF Lenses
103* Canon EF lenses are able to fully realize the benefits of Dual Pixel CMOS AF. Compatible lenses greatly expand creative and compositional possibilities so users can enjoy a wide range of endeavors made possible through various lenses whether shooting still images or video.
*As of July 2, 2013

The Convenience of Built-in
Wireless Technology
Wireless technology makes it easy to share your photos and video with friends and family. It also enables you to shoot remotely and control camera settings, allowing even more creative and compositional freedom.

Amazing Capture and Processing Power
At 20.2 Megapixels, the CMOS sensor on the EOS 70D helps ensure excellent tonal gradation and phenomenal image quality. A powerful DIGIC 5+ Image Processor improves speed, reduces noise, and enables an expanded ISO range of ISO 100-12800 (expandable to 25600 in H mode).

Capable of shooting up to 7.0 fps during continuous shooting, the EOS 70D is a perfect camera for quick action. A rapidly occurring scene can be captured moment by moment, second by second, so that even the briefest of opportunities are captured in exquisite clarity.

True HD Performance
in Your Hands
The EOS 70D easily captures stunning HD video, in a number of recording sizes and frame rates, all with lifelike detail and accurate, brilliant color. And new Dual Pixel CMOS AF helps ensure your subjects are continually in pristine focus.

Versatile, Sharp and Clear,
with Tactile Controls
The Vari-angle Touch Screen 3.0-inch Clear View LCD monitor II on the EOS 70D displays fine detail (with approximately 1.01 million dots), features capacitive touch technology, and enables comfortable shooting from a variety of angles and vantage points not possible with the viewfinder.

Fast, Accurate,
Phenomenal AF
The EOS 70D makes use of 19 high precision cross-type AF sensors and a central f/2.8 dual cross-type sensor during viewfinder shooting to crisply focus on subjects – even if their movements are erratic or unpredictable.