ASUS FM2+ Series Motherboards
Combining award-winning motherboard technologies with proven durability on A88X, A78 and A55 chipsets, ASUS FM2+ motherboards fit nearly any budget and are compatible with AMD® Kaveri, as well as older APUs.
ASUS A88X-PRO
The ASUS A88X-PRO leads the way with widely-heralded 4-Way Optimization technology to help you achieve optimized system performance with a single click.
ASUS A78M-A
Featuring 5X Protection, the ASUS A78M-A is built to last, while leaving enough room in your budget to add a graphics card for AMD Radeon™ Dual Graphics.
ASUS A58M-A/USB3
The ideal choice for first-tine builders with HDMI/DVI on board and USB 3.0, backed by the peace of mind of ASUS 5X Protection.
ASUS FM2+ motherboards offer the full spectrum of display options with plenty of room to grow. Capable of running 4K display resolutions, ASUS FM2+ motherboards include multiple display outputs including DisplayPort to drive Eyefinity configurations. And for the best gaming and multimedia experience, add a discrete graphics card and take full advantage of the native PCIe 3.0 support.
Dual Intelligent Processors 4 with
4-Way Optimization
The 4th generation of the acclaimed ASUS-innovated Dual Intelligent Processors now includes 4-Way Optimization. Accomplishing 4 tasks in 1 click, 4-Way Optimization delivers robust overclocking through the Turbo Processing Unit (TPU), improved power efficiency via the Energy Processing Unit (EPU), calibration & control of case fans with Fan Xpert 2 and optimized digital power delivery. Multiple profiles allow you to easily change settings on-the-fly to accommodate multiple scenarios, such as gaming, multimedia and even away modes to minimize power consumption when the PC is idle.
Graphics Performance Boost
ASUS GPU Boost takes the integrated graphics of AMD APUs even further, increasing performance of the integrated graphics by approximately 10 FPS with ASUS GPU boost. Couple this with built-in AMD Eyefinity support for an integrated graphics experience beyond compare.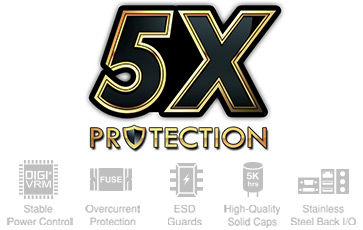 5X Protection
ASUS FM2+ motherboards guard your PC with 5X Protection, combining quality components like DIGI+ VRM digital power design for precise APU power on demand with ESD guards to prevent damage from accidental static discharge and resettable fuses around DRAM slots to prevent overcurrent and short-circuit damage. 5X Protection also features corrosion-resistant back I/O shields for the best possible reliability and durability.
All prices reflect the final price after savings/rebate(s).