Seeing isn't just believing; seeing is learning. We think classrooms and labs should be places of practical application and hands-on discovery, and we're not alone. Schools, colleges and educational and governmental institutes of all levels and disciplines are increasingly introducing their constituents to 3D Printers' leading 3D printing technologies as a means of providing real world applications in math, science, mechanical engineering, and architecture, among others. 3D printers are easy to maintain and operate and are becoming indispensible tools for educators and civil servants alike.
On October 1, 2012, Dr. Chris Williams, Ph.D. at the Virginia Tech DREAMSLab, received National Science Foundation funding for an innovation-based manufacturing program with the Virginia Polytechnic Institute and State University. These funds were put to use by developing and hosting several dozen high school STEM teachers for a week of intense in-service training on how to introduce 3D printing into their classrooms.
See how 3D printers are being used in the Medical Field and are revolutionizing the capabilities of medicine.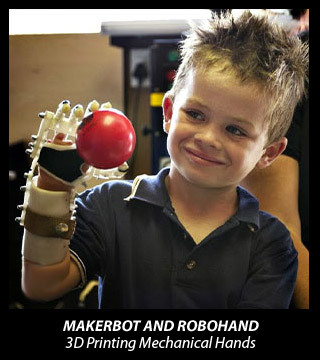 From a simple idea to a reality. A 3D printer can open a door — from creating your favorite toys to starting a business.