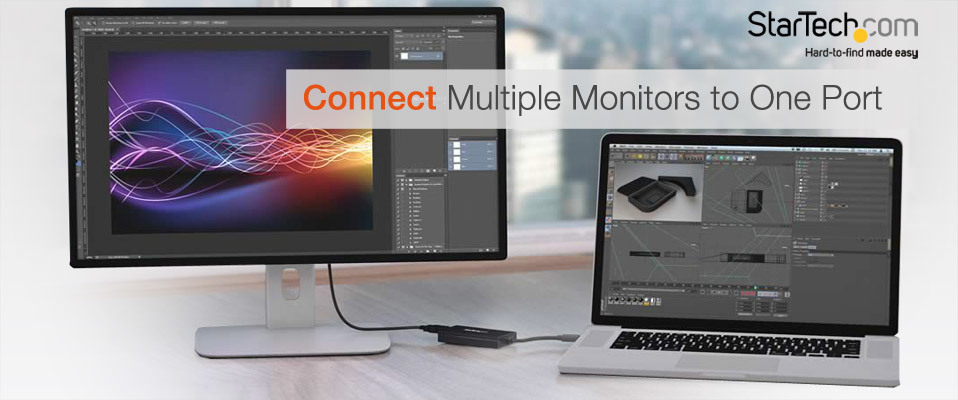 You can connect mulitple monitors to a single USB 3.0 or Mini DisplayPort connection on your computer
If you're looking for a simple and inexpensive way to increase your productivity, consider adding a second or third monitor to your computer set-up. Multi-display systems increase productivity, and the demand for more screens are steadily increasing. New technology, specifically DisplayPort's Multi-Stream Transport (MST) - is now making this a reality for many users. Picture this: Email on one screen, an Excel spreadsheet on a second, and a PowerPoint presentation on a third.
You can connect your display using different technology such as DisplayPort, MST, 4K, USB and more! Our products allow you to easily connect your laptop or computer to multiple monitors with whatever displays you may have and whatever technology is best for you. We also have adapters for connecting older technology such as VGA and DVI.
Upgrade to
4K
4K Ultra HD gives you astonishing picture quality that is particularly useful
for detailed work like editing video or large spreadsheets.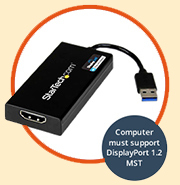 Connect an additional HDMI display to your PC with USB 3.0 technology capable of playback at 4K
DisplayLink 4K Plug-and-Display certified
Add Ultra HD 4K video support to your computer system through an available USB 3.0 port
DisplayLink 4K Plug-and-Display certified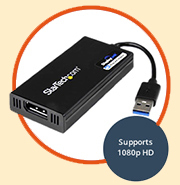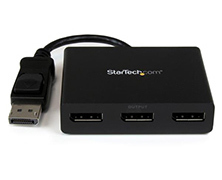 Add three independent monitors to your computer using a single DP output, or use the MST hub as a video splitter to mirror the same image across all displays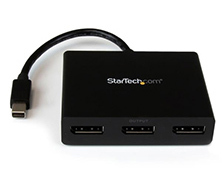 Add three independent monitors to your computer using a single mDP output, or use the MST hub as a video splitter to mirror the same image across all displays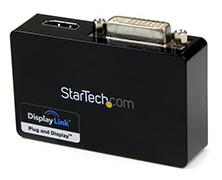 Connect an HDMI and DVI-I-equipped display through a USB 3.0 port, for a 1080p HD external multi-monitor solution