What is a Power Distribution Unit (PDU)?
A Power Distribution Unit (PDU) is essentially a rack-mountable power strip that is specifically designed to distribute electrical power to equipment within a rack enclosure. A PDU does not generate nor condition power.
Where will I install it?
---
PDUs can be mounted either horizontally (1U-2U) or vertically (0U) inside or outside a rack mount enclosure: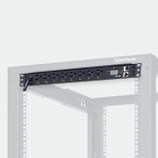 Horizontal PDUs are typically available in 1U or 2U heights and are designed for mounting in the standard EIA-310 19-inch wide equipment racks. Because of their smaller size, horizontal PDUs typically have fewer outlets but can be mounted above, below, or in-between the components of the rack.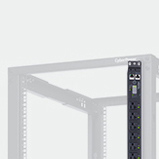 Vertical PDUs are mounted on the upright rails of a rack enclosure, which is known as 0U. Mounting it vertically means you do not take valuable horizontal mounting space away from your other equipment. Since vertical PDUs are typically longer, they can have up to 40 outlets.
What type of PDU do I need?
---
PDUs come in a variety of flavors, and choosing the right one for you depends on the features that you require. A basic PDU simply shares a single power source with multiple devices, while advanced models can incorporate environmental monitoring, remote network control, and also digital load metering.

1. A Basic PDU distributes reliable AC power from your power source to multiple connected devices.

2. A Metered PDU distributes electrical power while also displaying power consumption in amps on a digital load meter. This lets the user better configure their rack enclosure to optimize power load levels and prevent overloads.

3. A Monitored PDU has the same feature as metered PDUs but adds a network interface card to allow for remote monitoring and automated alerts. This helps the user minimize downtime due to power events or equipment overloads.

4. A Switched PDU adds the ability to individually or collectively switch outlets on or off. Most switched PDU models can be controlled in real-time to remotely reboot unresponsive rack equipment or can be custom programmed for user-defined power-up and power-down sequences.

5. An Auto Transfer Switch (ATS) PDU has the ability to switch to a secondary power source in case of primary power failure. Dual power input cords allow ATS PDUs to connect to a Primary and Secondary power source with normal continuous output being supplied from the primary input cable. If the primary power source ever fails or becomes unstable, the ATS PDU will automatically switch over to the secondary power source until the primary input is restored.

6. A Hot-Swappable PDU allows for maintenance, repair or replacement of a UPS system with no interruption of power for connected equipment. You can seamlessly switch between UPS power and utility power without powering down connected equipment for maintenance downtime.
How much power does my equipment need?
---
Before choosing a PDU or UPS for your rack enclosure, you must first have a good idea of the amount of power your equipment will consume. In the user manual or on the back of the equipment itself, each device should list the maximum amount of power it can consume either in volts and amperes (VA) or in watts (W). After adding up the total power consumption of all your rack mount equipment, that total should be lower than what your power source is rated for.

Additionally, you also have to consider the voltage used by the equipment in your rack. In North America, the voltage used to power rack cabinets are usually 120V or 208/240V. In Europe and Asia, you will typically find 230V power.
Lastly, depending on your building type and location, the power being delivered to your rack cabinet is either Single-phase or Three-phase power:
Single-Phase Power is most commonly found in households and offices in North America. It is sufficient for the needs of smaller customers such as homes and non-industrial businesses.
Three-Phase Power is normally found in large businesses such as commercial and manufacturing sectors.
Make sure you know what kind of input power is being supplied before buying new equipment.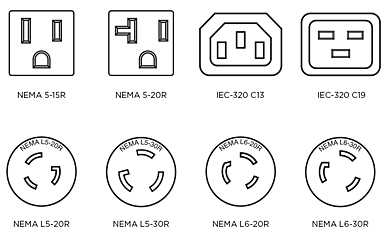 What type of plugs and how many outlets do I need?
Choosing a PDU with the correct number of power outlets and plug types is essential. Not having enough outlets or the correct plug type is not only frustrating, but it can also limit the potential growth of your rack enclosure. Make sure to have at least enough PDU outlets for the number of plugs you need to connect. It is also good practice to have extra outlets for additional accessories and future growth. Furthermore, make sure the PDU you choose matches the plugs on the equipment you will be connecting to. Some PDUs offer a mix of input and output plug types. Here is a list of some of the most common plug types: