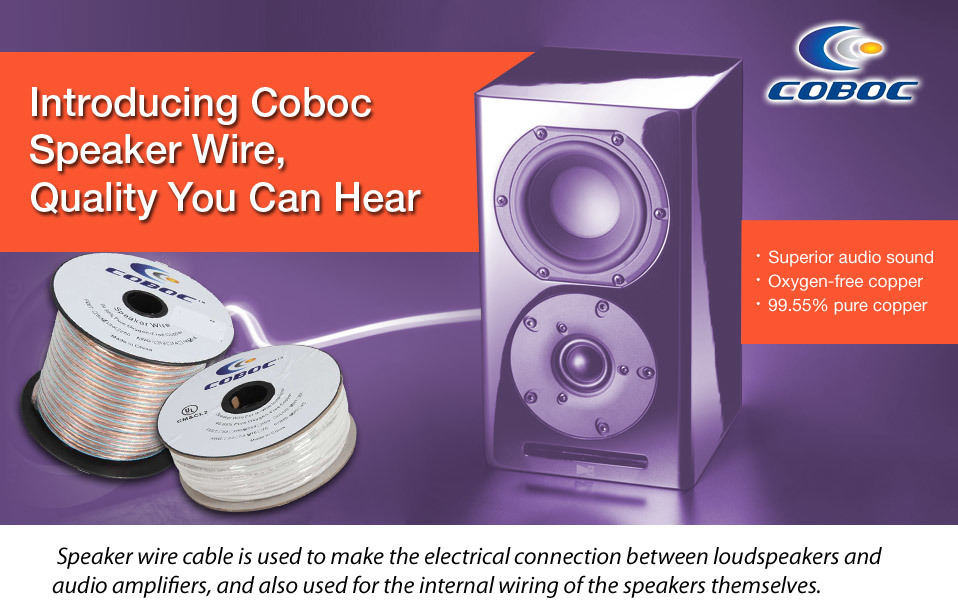 High Conductivity Copper
All Coboc speaker cables utilize high-conductivity 99.95% pure, oxygen-free copper.
Marked Polarity
One side of the wire insulation is marked with a blue stripe, making it quick and easy to identify the correct audio signal polarity.
Easy and Convenient Installation
Coboc speaker wire comes wrapped around a hard spool that makes installation easy and convenient.
Keep Your Home and Family Safe with In-Wall-Rated Speaker Wire
When you're running wire inside your walls, it's important that you use speaker cable that's approved for in-wall runs. This cable's CL2 certification means it passed safety tests administered by the Underwriters Laboratory (UL). The UL looks at heat generated from current flowing through wire, how quickly the cable will catch and spread fire when exposed to flame, and the wire's susceptibility to damage from external stresses. Also, be sure to check your local building and fire codes, and buy wire accordingly.
What Is AWG?
AWG stands for American Wire Gauge. It is a measure of the thickness of the wires inside the cable. Lower numbers represent a thicker cable.
The measurement is the diameter of the cross section of wire. It is expressed as the number of turns required for the width of the bare wire to make 1 inch. So a 12AWG cable would have wires that are 1/12 of an inch thick.
The outer diameter of the cables jacket is not an accurate expression of gauge since manufacturers can simply put a thicker jacket to make a wire appear to have a heavier gauge.
Gauge Selection
Different people will have their own opinions about what gauge is proper for what length. The quality of the equipment can also play a factor. The following is a general guide for picking gauges for certain lengths.
0-25ft - 18AWG, 25-50ft - 16AWG, 50-75ft - 14AWG, 75 & up - 12AWG
Does Higher Strand Count Provide Better Audio Quality?
There is a lot of spin placed on wires and cables to justify one type or another. The main reason for this is to justify an over-inflated price. The fact is, stranding provides flexibility. Solid wire conductors can deliver high audio quality and arguably better run lengths, but would be more brittle and tend to break. If one breaks, you lose connectivity. Stranded cables are more flexible, and a break in one or more lines will not cut the signal flow. However, it doesn't magically improve audio performance. Actually, audio quality is influenced more by the quality of the copper. High purity copper will have lower signal resistance and less fluctuation in density which will lead to better signal integrity and more pure audio. All our Coboc speaker wires are milled from high quality, oxygen-free copper.
Selecting the Correct Speaker Wire for the Application
Based on the following questions, use the table as reference to select the proper gauge size:
1. What is your speaker type (4Ω, 8Ω or 70-volt)?
2. What is the acceptable power loss (11%, 21%, 37% or 50%)?
Move down the column to select the wire AWG size that meets your distance requirement in feet.