What Makes OLED Better?
LG OLED uses revolutionary self-lighting pixels, individually controlled to achieve perfect black and infinite contrast.It has an expanded color palette virtually identical to today's digital cinemas and is enjoyable from a wide viewing angle.LG OLED 4K TVs also support standard HDR and Dolby Vision™*.
Perfect Black
The individually illuminating OLED pixels can brighten, dim and power off fully to achieve perfect black. That means contrast—the ratio between the lightest and darkest areas of the screen—is truly infinite. Perfect black is essential to a more lifelike image as well as the great shadow detail you can only get with OLED.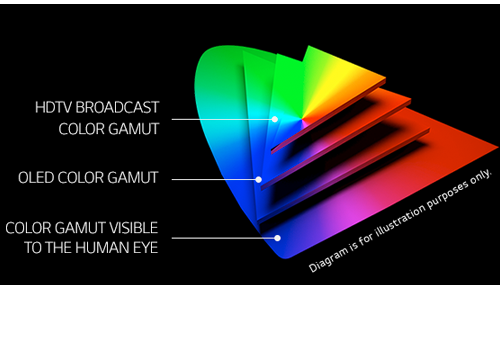 Cinematic Color
LG OLED TVs display a color palette that virtually matches the vast range of hues seen in today's high-end digital cinemas. With over a billion rich colors at its disposal, LG OLED TV delivers a theater-quality experience at home.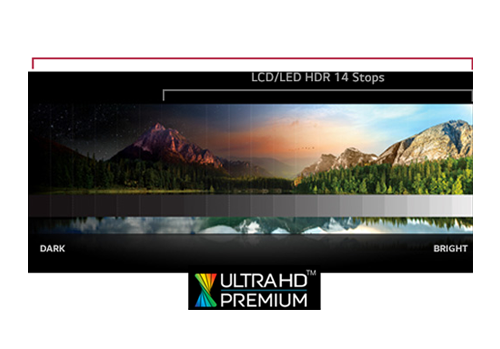 OLED HDR
OLED HDR delivers a stunning high-dynamic range picture, including support for Dolby Vision™* content. Enjoy brilliant brights and the deepest darks for infinite contrast, rich color and an exceptional viewing experience, closer to what filmmakers intended. With their perfect black and cinematic color, LG OLED TVs have also earned prestigious Ultra HD Premium certification.
Wide Viewing Angle
LG OLED TV's exceptional picture quality holds up even from wide viewing angles, so now everyone on the couch will have an ideal view of the action.
Design
Slim, stylish LG OLED TVs are available with curved or flat screens in a range of sizes. Wall-mounted or on a tabletop, each complements the most elegant décor. Both the E6 and the flagship LG SIGNATURE OLED TV feature unique Picture-on-Glass technology. The LG SIGNATURE OLED TV further enhances the cinematic experience with an exclusive Harman Kardon™ sound bar stand.
4K Resolution
All 2016 LG OLED TV models offer 4K resolution. That's 8.3M OLED pixels, each ready to deliver perfect black and cinematic color, for an amazingly clear and incomparably beautiful Ultra HD picture.

*Dolby, Dolby Vision™, and the double-D symbol are trademarks of Dolby Laboratories. Dolby Vision™ will be available via software update, which requires internet connection. Software update schedule will be announced on LG.com.
---
The Path to Perfect Black
Almost a century of television evolution has led LG to realize the ultimate display. A history of major breakthroughs was necessary to bring us here.
OLED
Today, organic light-emitting diodes create a picture with perfect black for infinite contrast and a wide viewing angle, while maintaining an ultra-slim design.