Slimmer, Larger: Perfect for bigger, slimmer flat panel TV designs. At 2-1/4 inches deep, the SurroundBar 6000 IHT complements the slimmest flat-panel TVs. It's lightweight and easy-to-mount, either on the wall or on your shelf. All the hardware you need is included, too. High gloss details match today's TV styling. Your TV and SurroundBar system will look like they were made for each other. (And they were.) Deeper, Smoother: Deep, authoritative bass comes from the compact wireless subwoofer in a stylish cabinet. A flared J-port design optimizes the bass for bigger volume, reducing port turbulence for smooth blending. Lossless wireless technology results in absolutely instantaneous response. In addition, universal port tuning in the SurroundBar itself guarantees ideal mid-bass response and smooth subwoofer blending whether it's mounted on a shelf or on the wall.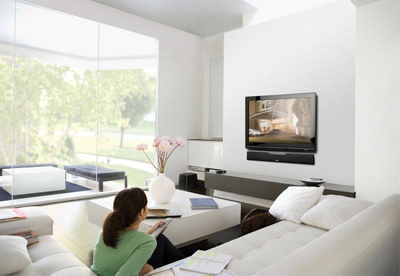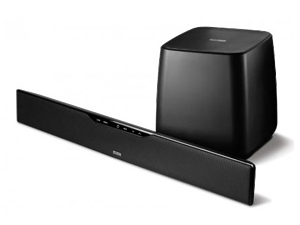 Less Than 2" Deep, Sleek design blends seamlessly with today's contemporary TV designs
Polk Audio proprietary SDA and Polk Digital Logic technologies create a rich, enveloping listening experience
Dolby Digital Decoding for the kind of full, clear sound you want from all your digital sources
Powerful wireless subwoofer creates deep bass impact and can be placed anywhere in the room within 50'
3D Audio—a combination of Polk Audio proprietary SDA and Polk Digital Logic technologies—creates a rich, enveloping listening experience
Energy Star Certified

Features:
Polk's patented SDA surround technology delivers a vivid 5-channel sound field from a single source; no rear speakers or special room characteristics are required. Polk Digital Logic® technology, a proprietary DSP program, automatically calibrates and optimizes your SurroundBar for any room shape or system setup. On-board Dolby Digital processing: connect directly to your TV, DVD or Blu-Ray player, or gaming console. Installs anywhere easily, with the simple secure wall-mount bracket or shelf cradle. Extruded aluminum enclosure is designed to eliminate performance-robbing cabinet resonances. Anti-diffraction grille and bezel design create surprisingly open, spacious imaging. SmartBar™ programming enables the SurroundBar 6000 to easily learn volume up/down and mute from your existing TV remote control. You'll use only one remote for the SurroundBar and your TV. Easy plug-and-play connections, with no complex setup or calibration needed. It works right out of the box! Compact 80 Watt wireless subwoofer features 7-inch downward firing poly-composite Dynamic Balance® woofer and flared J-port for big bass with low distortion. State-of-the-art lossless wireless technology delivers absolutely instantaneous subwoofer response. All Polk products are made using the best materials and the most advanced manufacturing techniques. They pass the industry's most exhasutive quality tests, including drop testing, extreme signal response and UV & salt exposure testing. Polk loudspeakers are built to perform for a lifetime.