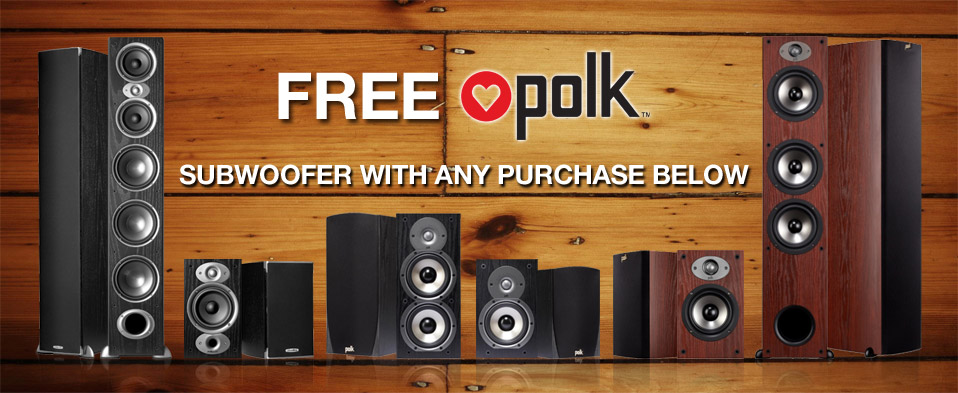 Blackstone Series l The Return of Big Speaker Sound Without the Big Speaker
There's something shocking and amazing about being able to achieve dynamic, convincing surround-sound in a small room or on your desktop gaming array. It's even more surprising when the speakers that do it fit right in the palm of your hand. The TL250 is a 5-piece surround-sound system that presents high performance in a compact package that works with or without an additional subwoofer. These little loudspeakers feature Polk's patented PowerPort
®
bass venting system, for unheard of deep bass response and superior, natural subwoofer blending.
SurroundBar Component HT Series
This is what you've been waiting for: the true single-speaker surround-sound . SurroundBar
®
Component Home Theater systems feature multiple drivers and tweeters in specially engineered arrays, driven by patented propietary digital technology, that replicate an enveloping, engrossing, realistically thrilling surround-sound ambience in practically any room. Add dimension to your TV watching, explosive action to your movie watching, and breathtaking realism to your gaming, all without cluttering up your space with speakers and wiring! SurroundBar CHT systems are the plug-and-play single-speaker surround-sound trend-setters.
RTiA Series l Real Wood, Real High Performance.
The RTiA Series will take you by surprise in more ways than one. They'll fill your home with the majesty of an orchestra, the intimacy of a string quartet, or the drive of your favorite band. You'll experience the big cinema thrills of your favorite movies with gut-checking realism. All in beautifully finished, furniture-grade real wood cabinets that look great in your home. And all at a price that may be the ultimate surprise: much less than you'd think.
RTiA speaker enclosures are crafted in a process specifically developed for Polk called Damped Asymmetric Hex Laminate Isolation (DAHLI) design. It consists of a durable 11-layer laminate (6 strong solid layers and 5 damping viscous layers) topped with a layer of beautifully finished real wood. These delicately curved enclosures are acoustically inert, producing less audible coloration, and internally braced for non-resonant strength.
TSx Series l Styles change. Great sound endures.
Introducing the TSx Series of loudspeakers from Polk. Our newest family members are chips off the old Polk block: stylish and quality-built for high performance, without losing sight of your bottom line. The high efficiency TSx Series features gorgeous curves and stylish brushed metal accents. The high tech components feature Dynamic Balance tuned drivers and tweeters for realistic mid-range, deep, well-blended bass, and incredible detail. All in the service of the classic Polk sound: naturally open, spacious and clear.
The power of your first serious loudspeakers is the power of the reimagined, redesigned TSx Series to transport you to the scene of the recorded performance. The design guidelines used to create the TSx Series are the same principles first used to create our original Monitor loudspeakers over 40 years ago. Enjoy incredible high performance from state-of-the-art audio technologies, in a beautifully designed package that not only fits into any room, but also fits into any budget. Pure and simple, TSx is designed with your entertainment in mind.
Monitor Series l Incredible Sound Affordable Price
Monitor! The name itself means audio. And the Monitor is pure Polk. The original mid-70s era Polk Monitor Series ushered in the modern loudspeaker era. It set a new standard for performance and value with sturdy construction, accurate sound and powerful bass.
Today's third generation Monitor Series remains true to its roots, with authentic high performance at a reasonable price. Build a complete home theater system of matched Monitors. The series features speaker sizes that fit any sized room, from a small den to a large rec-room. Timbre-matched center channel speakers deliver sharp detail and wide soundstaging when matched with bookshelf or floorstanding front stage speakers. Monitor Series lets you build a top-shelf stereo system with moderate electronics, and still experience the depth and detail of high performance audio that doesn't break the bank.