Today's results-driven businesses demand maximum productivity and workflow efficiencies, but industrial environments can be tough on the tech devices needed to perform routine (but mission critical) tasks. If a device isn't purposely built to perform reliably under harsh conditions typically found in these settings,
productivity is lost:
If a device can't withstand multiple drops to a concrete floor, exposure to dirt, dust, grease, grime, and water without being compromised: productivity is lost.
If a device can't read barcodes in a variety of lighting conditions, from a variety of distances, or read damaged/torn/smudged/shrink-wrapped barcodes: productivity is compromised.
The Zebra 3600 scanner family is designed for "unstoppable performance" - purposely built to take more of a beating over a longer period of time, to scan faster and farther with greater accuracy and increased speed, and to be deployed faster and managed more efficiently across an enterprise.
Ultra-Rugged:
Industrial scanners are used in unforgiving environments. Drops to concrete from a forklift or lift operator occur on a regular basis, often times while reaching high overhead to scan a stacked pallet. Dusty & dirty conditions are ubiquitous in an industrial environment, and outdoor use in rainy or freezing conditions are common. Zebra's new line of scanners were built from the ground up to not just withstand these punishing conditions, but to excel in them. And remember, cordless rugged scanners are only as good as the cradle they come with, and Zebra features the industry's only "go anywhere" rugged cradle with an IP65 rating.
Superior Scanning
For both corded and cordless devices (which include linear and array imagers) Zebra has designed all variants in this line from the ground up to provide superior performance in mission critical use cases — especially on those less than perfect barcodes typically found in industrial environments. All 3600 devices are designed to scan faster and farther than other scanners in the category with a working range of at least 20% farther and productivity enhancing features that set them apart from the competition.
Power Precision+ Battery (Cordless Models) has 50% more capacity than others on the market and provides a full 14 hours of power or 50,000 scans per battery charge, ensuring that your cordless devices will powered up to last a full shift and more…this is at least 50% more than the competition
Manageability
Using Zebra's scanner and battery management tools provide IT or operations managers the ability to configure and manage their fleet of rugged devices easier and faster than ever before. Our partners tell us over and over, Zebra does this better than anyone. Our 123Scan utility is easier and more powerful than any of our competitors.
As needs change, the entire fleet of scanners can be re-configured remotely, dramatically reducing operation costs and streamlines upgrade processes.
Understanding the battery health of each cordless scanner in a fleet — from a desktop — enables IT managers to make intelligent decisions in advance, avoiding potential productivity pitfalls and unplanned downtime.
Zebra 3600 Ultra-Rugged Series Portfolio
1D Linear
2D Standard Range
2D High Performance
2D High Density
Standard Range 1D linear imager, Reads off LCD
Standard Range Reads off LCD, Basic Image capture, LED aimer
Mid Range Reads off LCD, OCR, Doc Cap, Advanced Image capture, Signature capture, Laser Aimer
Small dense codes Reads off LCD, OCR, Basic image capture
Near field reading, Shipping and Recieving on loading docks and receiving dock doors. Small Item pick and pack, Mfg WIP.
Near field 2D reading, Shipping and Recieving on loading docks and receiving dock doors. Small Item pick and pack, Mfg WIP. D16
Mid-Range reading for reading large items on loading docks for shipping and receiving. Package / Courier services poof of delivery / image capture.
Electronics Mfg, Medical equipment Mfg, Telecom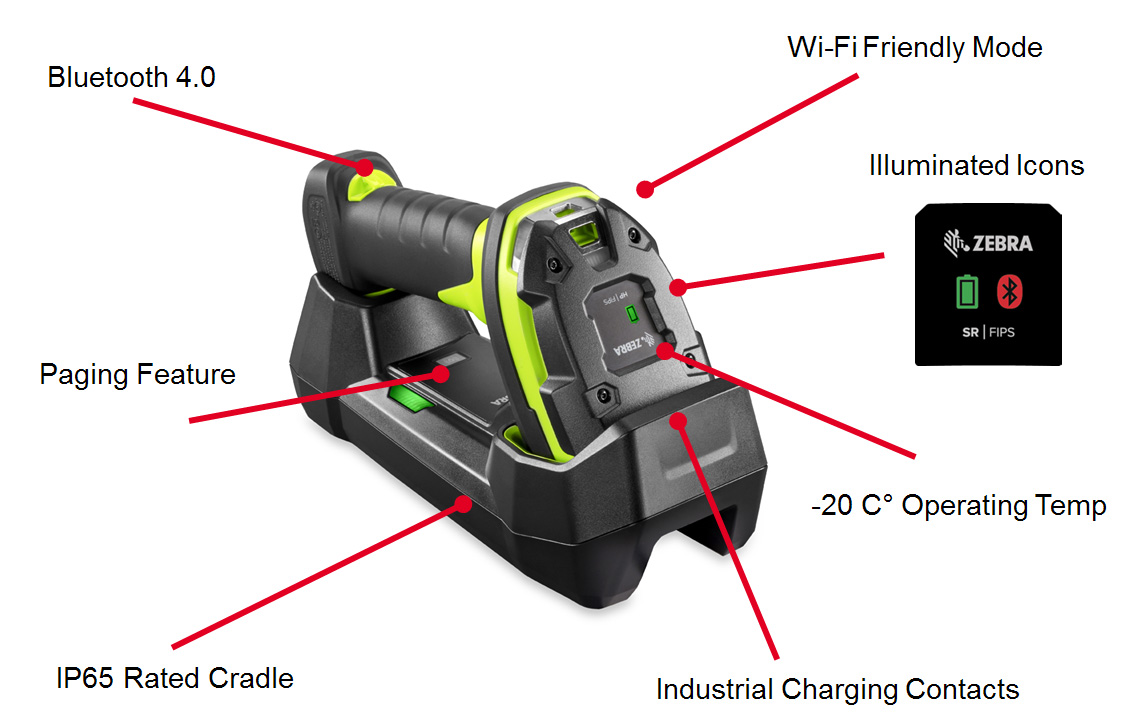 Power Precision+ Advanced Battery Technology
50% more capacity — 3100 mAh Li-Ion — most powerful battery in its class
Highly accurate charge gauge — Calculates remaining power based on real-time available charge
Extensive battery metrics — makes it easy to spot and retire aging batteries that can no longer hold a full charge
Complete solution — Battery management software to easily view battery metrics
Key Accessories