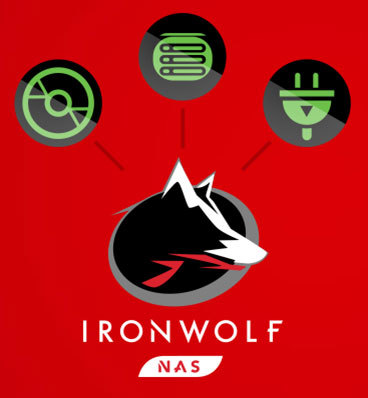 AgileArray and the Power of IronWolf for Your NAS
IronWolf is built with AgileArray. NAS-optimized for the best NAS experience possible, AgileArray focuses on drive balance, RAID optimization and power management.
Dual-plane balance and Rotational Vibration (RV) sensors—available on 6TB, 8TB and 10TB capacities—mitigate vibration in multi-bay NAS enclosures for consistent performance and reliability
RAID optimization increases performance and reliability with error recovery control for better data integrity
Advanced power management saves energy and delivers power when the NAS needs it most
Do More With Multi-User Technology
Do more with your NAS with multi-user technology. Enabling user workloads of up to 180TB/year on IronWolf, multiple users can confidently upload and download data to a NAS server. Whether you're a creative pro or a small business, IronWolf is on your side.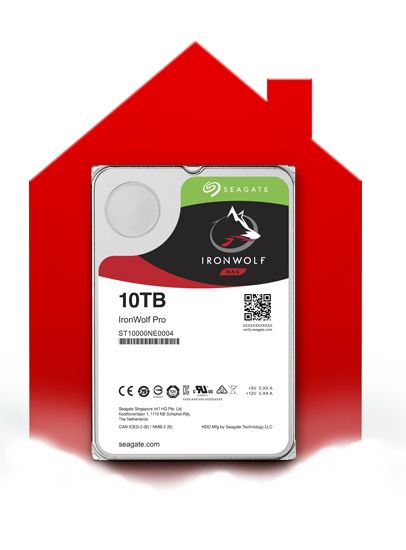 Dominate The Media
Build your home NAS media empire with IronWolf HDDs. IronWolf leads the class in storage capacity with drives as large as 10TB, and the performance needed to run high definition content with your NAS. Store thousands of full-length HD films and even more photographs on your private server. Think of it as your home cloud.

Synology DiskStation DS216j
Built for you, a NAS providing home media storage in a powerful yet affordable way.
DS216j is specifically designed for home and personal users. With a dual-core CPU, this 2-bay NAS is intuitive and powerful, making sure users enjoy effortless data sharing, multimedia streaming and seamless file synchronization.
Synology DiskStation DS416j
Powerful 4-bay NAS at an affordable price. Perfect for home and personal users to share data and enjoy multimedia.
With high performance and rich add-on applications, DS416j is budget-friendly and delivers an optimal value for home and personal users to build up an ideal home storage and entertainment center.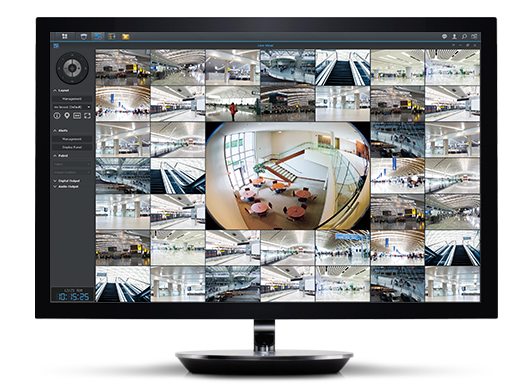 Simple Surveillance. Intelligent Monitoring
Protect Your Home
Safeguard your home while you're away with smart features like live view analytics to set up alerts for suspicious activities around the house.

Keep an Eye on Family Kids throw a party and trash the place? Frame-by-frame playback, Time Slicing, and image enhancement tools make it simple to catch the party throwing culprit in action.

Notifications and Alerts Stay notified of any suspicious activity with custom triggers sent via SMS, e-mail, and push notifications..

Pet Cam Pets are family too! Keeping a close eye on your furry friend is important. Make sure Fluffy isn't in the fish tank and Buster isn't knocking over your trash bin and chewing up the furniture.

Massive Storage with Your Own Private Cloud The DS416j brings more possibilities imaginable! Not only are you getting a full-fledged smart home security solution, but you're also getting your own private server that can store terabytes of your surveillance footage, movies, photos, documents, and more!
Amcrest IP2M-841 ProHD 1080P Wireless WiFi IP Camera
Premium HD 1080p Video Resolution @ 30fps
Remote viewing on Apple and Android as well as PC and Mac®
On board storage options with MicroSD, ONVIF NVR, FTP, Amcrest Cloud and Blue Iris
Remote Pan/tilt, Intelligent Digital Zoom
Wide 90° viewing angle
Night vision up to 32 feet
Two -way audio, intelligent motion alerts, email alerts
Get Set Up Quickly and Easily
The ProHD camera comes with a QR code on the bottom that can be scanned with a mobile device using our free Amcrest View app (available on iOS/Android/Kindle). Say bye-bye to traditional, complex setup processes that require you to have a degree in networking. The ProHD can be quickly and easily set up by anyone on Wi-Fi, using a mobile device. Instantly see live video using your computer, tablet, or phone from anywhere.
Experience True HD in 1080p
Featuring a Sony image sensor and Ambarella processor, the Amcrest ProHD camera streams in crisp, 1080p video quality. Soak in the vivid colors and rich imagery provided by a full 1920 x 1080p resolution at 30 frames per second (FPS). No need to strain your eyes, lean in close, or play the guessing game when you have this level of detail.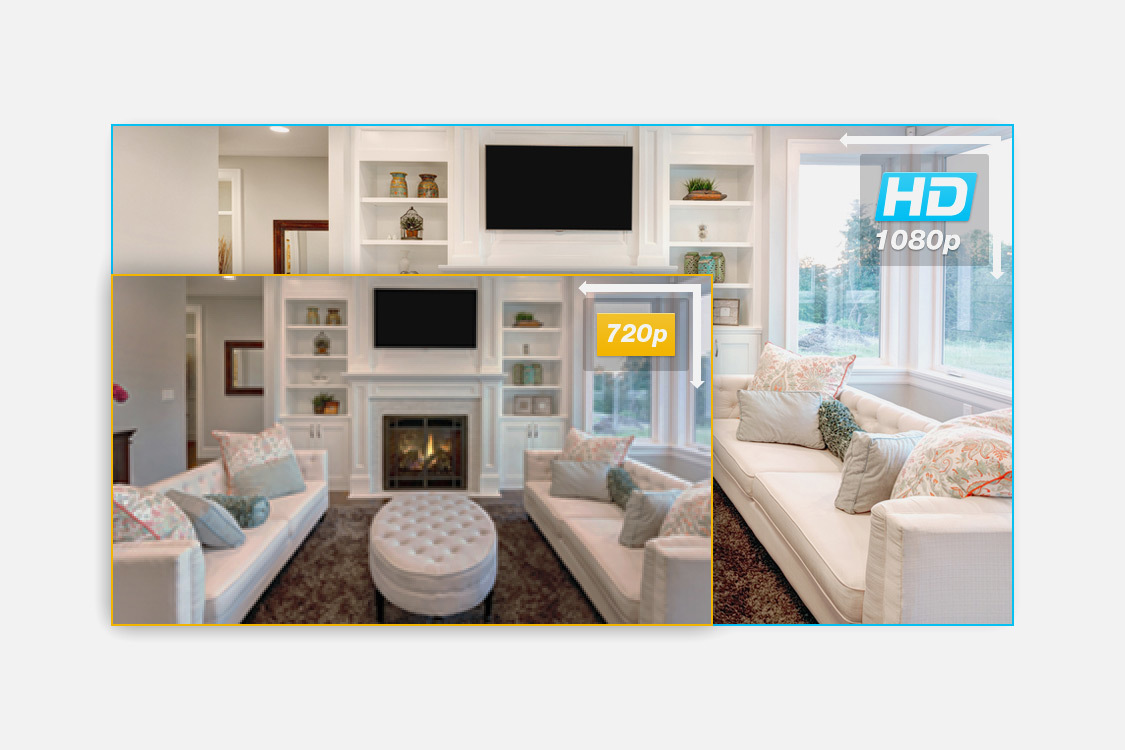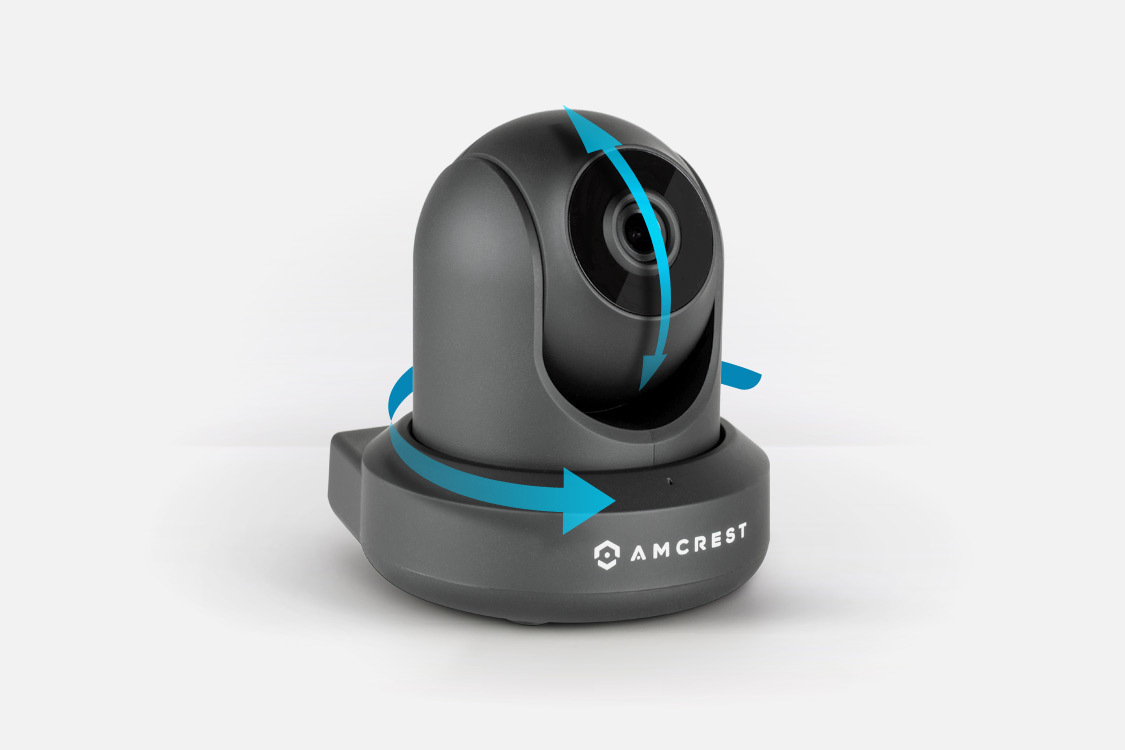 Pan/Tilt with Enhanced Zoom
View an entire area with fluid 360-degree pan/tilt visibility and a digital zoom function that constantly enhances and sharpens your video. With a 90-degree viewing angle and the ability to move the camera from wherever you are, you'll always have complete control over what you're watching
Talk and Listen with Two-Way Audio
The Amcrest ProHD camera allows you to be there with built-in two-way audio. The camera contains an embedded speaker and mic, and utilizes a state-of-the-art noise cancelling algorithm. Whether on your computer or smartphone, everything you say or hear will come through clearly and instantly, so you can talk and listen like you never left.