What You Need to Know
Find Your Model
with the Surge Finder

Surge Finder
What is an electrical surge?
An electrical surge, or power surge, is an intense, short-duration voltage increase that travels through electrical wiring or other cables that transmit data or energy, such as phone lines and coaxial cables for TV reception. Common causes of surges include:
Lightning strikes.
Power outages and downed power lines.
Tripped circuit breakers.
---
How does a surge protector work?
When the voltage rises above the accepted level, the surge protector suppresses the excess voltage to prevent it from causing harm. Specifically, internal components called metal oxide varistors (MOVs) absorb the excess voltage and divert it to the ground wire, preventing it from reaching the connected equipment. To function effectively, a surge protector must be connected to a properly wired and grounded AC outlet. Some surge protectors include LEDs that alert users to possible wiring problems.
---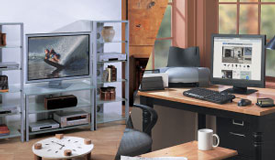 What equipment needs surge protection?
Any device that plugs into an AC outlet can benefit from a surge protector. The most vulnerable pieces of equipment are those with memory and sensitive electronic circuitry. A surge protector is essential for:
PCs and computer peripherals such as printers, monitors, and routers.
TVs, DVRs, cable boxes, satellite receivers, sound systems, and other home theater components.
Video game systems.
Lighting, tools, small appliances, and office equipment.
Note: If you need to protect a computer, consider an uninterruptible power supply (UPS), which provides surge protection and battery backup to keep the computer on during an outage.
---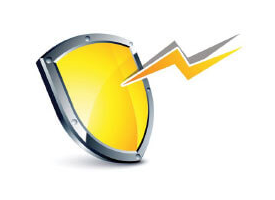 What are joules?
A surge protector's joule rating indicates how much energy it can absorb before it fails. The higher the number, the greater the protection provided. The type and value of the equipment to be protected are key factors in determining the amount of protection needed. Are you protecting a $500 PC or a $10,000 home theater? Obviously, the higher the value, the higher the level of protection required. If you're located in an area with frequent thunderstorms, also consider a higher level of protection.
---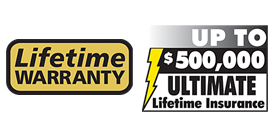 Other surge protector considerations:
Does it have diagnostic LEDs that show power availability and protection status?
Does it have a warranty? All Tripp Lite surge protectors come with a lifetime warranty.
Does it have a second type of warranty, called connected equipment insurance? Tripp Lite offers Ultimate Lifetime Insurance up to $500,000 for connected equipment (amount varies based on model).
---
Basic Surge Protectors
Safeguard workstations and home electronics against surges, spikes, and line noise.
*Ultimate Lifetime Insurance is valid in the U.S., Puerto Rico, and Canada only.
Surge Protectors with Additional Protection/Features
Surge protection for multiple inputs—Tel, DSL, Ethernet, and Coaxial.
Added convenience features like individual outlet control and USB charging.
Models with USB Charging Ports
*Ultimate Lifetime Insurance is valid in the U.S., Puerto Rico, and Canada only.
** Rotatable
Isobar® Premium Surge Protectors
The world's most trusted surge protector—Over 19 million sold.
Isolated filter banks remove damaging line noise.
Nearly indestructible all-metal housing with built-in diagnostic LEDs.
*Ultimate Lifetime Insurance is valid in the U.S., Puerto Rico, and Canada only.
Discover All Tripp Lite Solutions