When AVENTAGE was introduced in 2010, this new top-rated AV receiver series represented a dramatic, inspired leap forward with best-in-class audio/video component design. AVENTAGE brought studio-grade sound and sophisticated video enhancements to your home with unparalleled attention to detail in design, engineering and fabrication. Every electrical path, every part, every piece, was rethought and redesigned, if necessary, to achieve total performance excellence throughout the series. Materials were tested thoroughly and the finest were selected to maximize performance. Details that at first glance would not seem to affect the quality of sight, sound and control were brought together in AVENTAGE components and, in the end, produced a work of visual and acoustic art.

The PLAISIR range optimizes 30 years of experience in loudspeaker development by TRIANGLE. Whatever your taste may be, TRIANGLE PLAISIR speakers will be true to the music you love, from the subtleties of chamber music to the massive dynamics of a rock concert.
The TRIANGLE Research Team has always concentrated on three essential qualities for their drivers: transparency, dynamics and openness. Combined with advanced crossover technology, TRIANGLE PLAISIR speakers will let you feel the music more than ever before. With its timeless design and Wenge finish, the PLAISIR range speaker will easily fit in any home interior.
The PLAISIR FLOORSTANDER is exceptionally balanced and natural sounding. Don't let its modest size fool you. If you're looking for a big sound, this speaker is the one for you. With its solid bass performance and its delicate and detailed mid-high frequencies, the PLAISIR FLOORSTANDER will let you rediscover your favorite music. Standing at 96.5cm, the PLAISIR FLOORSTANDER is compact, elegant and will fit in any kind of home decoration.
The success of this mini bookshelf speaker comes from the amazing soundstage it delivers. For a speaker of such modest dimensions it can easily fill large rooms with commanding presence. The PLAISIR BOOKSHELF was voiced with a live cello. The aim for the engineers was to get the exact tone from that acoustic instrument out of this little box. Needless to say, the PLAISIR BOOKSHELF has tone to the bone! If you want a true hifi system without the hassle of a big speaker, look no further.The PLAISIR BOOKSHELF can also be used as a surround speaker.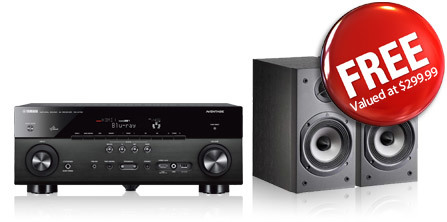 7.2 Channel powerful surround sound with 105 W per channel and full discrete amp configuration
Network functions include AirPlay®, Internet radio (vTuner), AV Controller App & the streaming services Pandora and Rhapsody. DLNA 1.5 certified
4K pass-through and full HD 1080p video upscaling from analog and HDMI input. Supports Deep Color (30/36 bit) ex. Color, 24 Hz Refresh Rate and Auto Lip-sync compensation
MHL supports full HD video and audio from mobile phones and portable devices
Burr-Brown 192 kHz/24-bit DAC's for all channels and Low Jitter PLL circuitry helps optimize sound imaging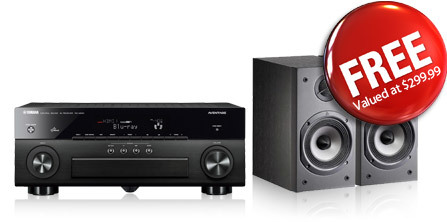 7.2 Channel powerful surround sound with 110 W per channel and full discrete amp configuration
Network functions include AirPlay, Internet radio (vTuner), AV Controller App & the streaming services Pandora and Rhapsody. DLNA 1.5 certified
4K pass-through and full HD 1080p video up scaling from analog and HDMI input. Supports Deep Color (30/36 bit) ex. Color, 24 Hz Refresh Rate and Auto Lip-sync compensation
MHL supports full HD video and audio from mobile phones and portable devices
Expanded Zone options for powered Zone 2, Party Mode and Zone B dual HDMI outputs
7.2 Channel powerful surround sound with 110W per channel
4K pass-through for next-generation super high resolution images
AV Controller app for operating various functions from an iPod®, iPhone®, iPad® or Android phones
YPAO R.S.C. (Reflected Sound Control) sound optimization for automatic speaker setup
4K/full HD 1080p video upscaling from analog and HDMI input
Combo Discount: $
Your Price: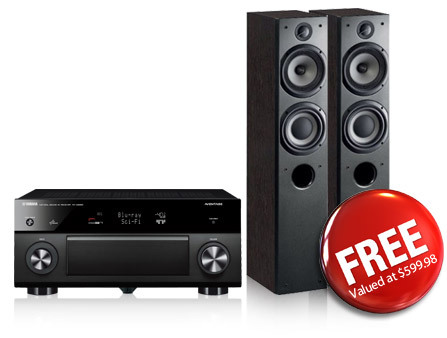 9.2 Channel powerful surround sound with 140W per channel
4K pass-through for next-generation super high resolution images
AV Controller app for operating various functions from an iPod, iPhone, iPad or Android phones
YPAO R.S.C. (Reflected Sound Control) sound optimization for automatic speaker setup
4K/full HD 1080p video upscaling from analog and HDMI input
Combo Discount: $
Your Price: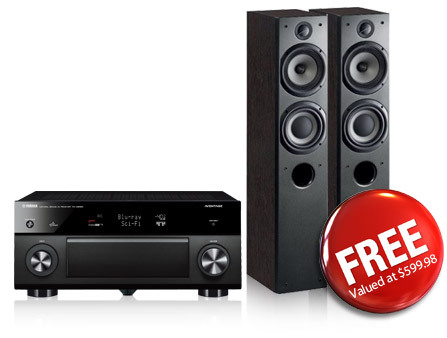 9.2 Channel powerful surround sound with 150W per channel
4K pass-through for next-generation super high resolution images
AV Controller app for operating various functions from an iPod, iPhone, iPad or Android phones
YPAO R.S.C. (Reflected Sound Control) sound optimization for automatic speaker setup
4K/full HD 1080p video upscaling from analog and HDMI input
Combo Discount: $
Your Price: